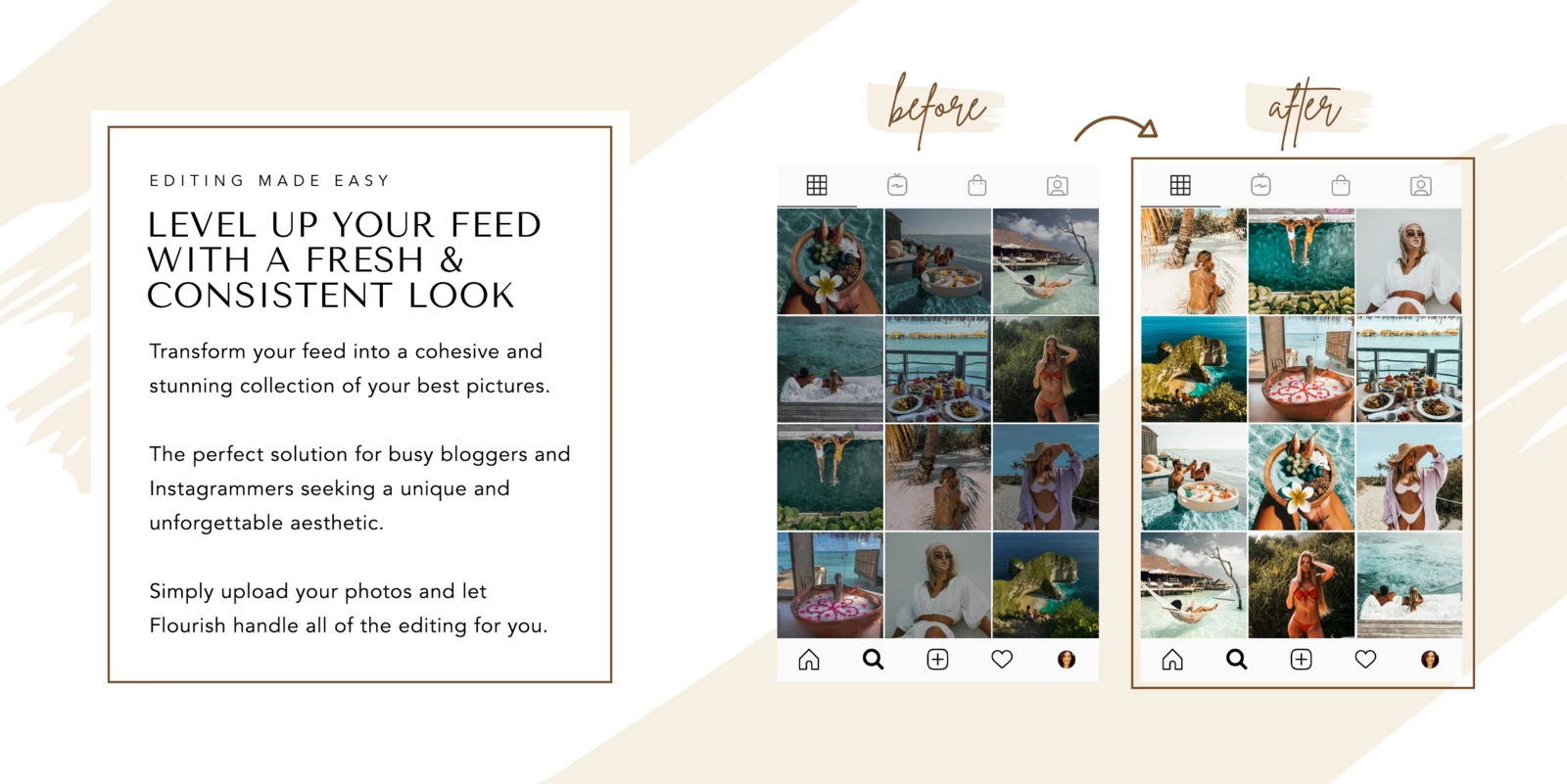 flour·ish
/ˈfləriSH/ verb
The act of growing and developing. Together, let's FLOURISH with Flourish Presets.
By using our passion for telling beautiful stories through photos, we have created one-click presets for Lightroom that you are sure to love.
OUR MISSION
At Flourish Presets, we are on a mission to make your life easier by helping you save time.
We believe that post-process editing does not have to be time-consuming and difficult. We exist to empower amateur and professional photographers, content creators, and people who love to tell their stories through photographs.
"Live your best life by doing what you REALLY love." - Alexa, Flourish Presets, Founder.
Streamline your workflow. With just 1-click, instantly transform your photos with a consistent aesthetic even if you're NOT a professional editor.
Grow your personal brand, tell your story the way it was meant to be told, and FLOURISH with us!
OUR PROCESS + PRESET QUALITY
At Flourish Presets, each of our presets is carefully planned and crafted. These presets are made with love and dedication by a growing team of professional photographers and humble founder - Alexa Starr, to complement a variety of images.
MEET OUR FOUNDER - ALEXA STARR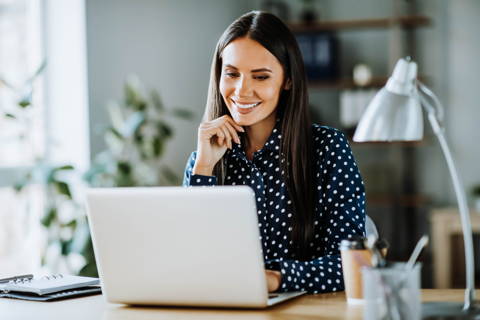 Hey boo!
Alexa Starr here, Flourish Presets' proud founder. I'm a model turned full-time photographer and a 24/7 mom.
One of the things I hear the most from business owners is their desire for MORE TIME. I hear ya. My old self used to wish to gain one more hour in the day so I could build the 8th Wonder of the World in my backyard... or at least shower before dinner time. The only problem is that we all have only 24 hours per day. How do we work smarter and not harder to reverse the clock?
Modeling, whilst being a photographer, made me realize what my true passion really is. I am in love with the process of creating and telling stories through photographs. Photography speaks. Photography could inform, educate, move audiences worldwide without the need to use the same language.
But when I became a mom, I struggled with managing my time. It felt like I constantly had to choose between my passion vs. my family. I wanted to be a hands-on mom, but at the same time, I couldn't say no to my clients. I used to cover so many events including weddings, baptisms, birthdays, anniversaries, and so much more. Every week, I have at least 3 to 4 events to cover.
Every photographer knows that post-process editing is super time-consuming. Going through hundreds if not thousands of images one by one, can take weeks if not months.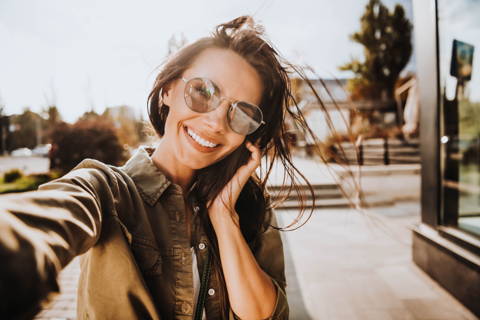 HOW FLOURISH PRESETS WAS BORN…
You've probably heard the word "preset" thrown around before. It's a commonly used term in Photoshop and Lightroom, and it essentially means a collection of settings that can be applied quickly and consistently to your images. I initially created and customized these presets to meet my needs as a photographer.
With the overwhelming demand of my passion and family life, these presets were my life-saver. The power of photography to freeze time, emotions, and moments is really beautiful. And using a preset on these images really enhances the feels and vibes.
The reason why I love taking pictures is because I love looking at them. I realized it wasn't my work alone that I have learned to admire. I love looking at photos shot by my colleagues or even random strangers. I became so fascinated with it that I dream of building a community where we all can support one another. Even as a professional photographer, I struggled with post-process editing and you know that, right? But my presets saved me. In just one-click, it instantly enhances a photo.
So, I thought to myself, "How should I build this community that I have been dreaming of?"
A community where not just photographers can get help, but also content creators, small businesses, models, creatives, or even just a normal person who would love to enhance their captured moments. A community that can ease the process of post-editing and make it simple and less scary or intimidating.
That's how Flourish Presets was born.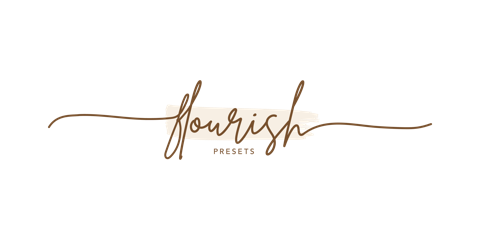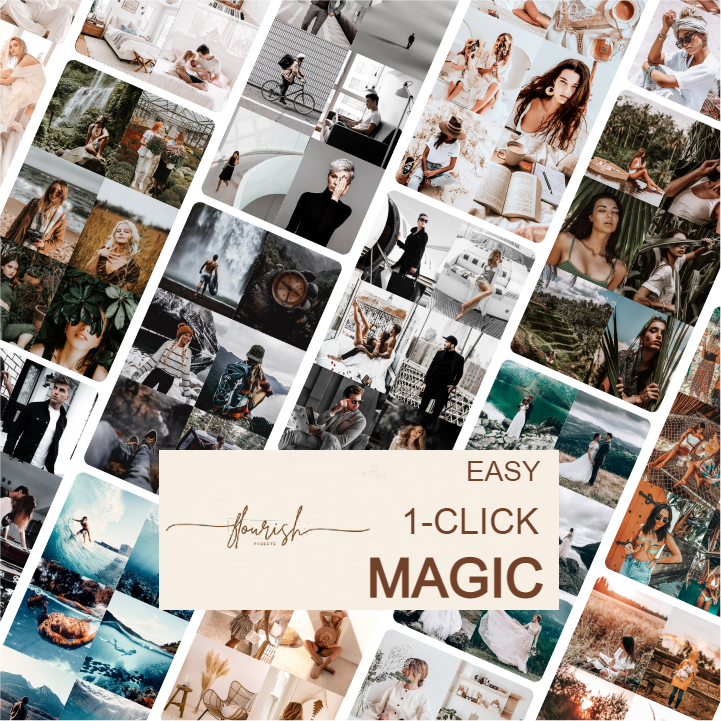 I SPEND HOURS DESIGNING AND EDITING EVERY CURATED PRESET, SO YOU DON'T HAVE TO...

Thousands of Happy Customers Later
To date, we have humbly served thousands of happy (we're going to assume they are happy if there are no complaints!) customers around the world to date. Equally important, is that we're able to help them tell their story the way that it deserves to be shared. We can't express enough gratitude for the trust, and confidence you put into our work and sharing your life's journey with us. If a picture tells 10,000 words, then your kind words tell 10,000 more!
You already did the hard work--- you showed up, you put on your makeup (or not, if you're a dude), you put on your best outfit (it's OK to channel your inner princess, girlfriend!), took the photos, and captured the essence of the candid moment. YOUR MOMENT. The last critical step is to 'polish and perfect' the photo. In the past, this would require pouring over countless videos studying YouTube content on Adobe Photoshop to optimize the settings, but it doesn't have to be that way. We're here to help make the complicated as easy as possible with our one-click Professional Flourish Presets.
I'm here to give you back your time, get your business SEEN on social media, and get followers engaged with you. I've been placed on this earth to help people build a business and life they love. It looks different each day, but I empower people to love their lives as a result of building the business/lifestyle of their dreams. With Flourish Presets, we're in this together with you.
In all honesty, helping our customers and seeing their photos and stories is what we enjoy the most. When we feel like we can't possible make another preset request without going-cross-eyed, we remind ourselves of the people we are serving daily and it really keeps us going. My father used to tell me that life is like an empty canvas. How will you paint your masterpiece to share your story today?
The #FlourishFam community wishes that you could find here the kind of support that you need to tell your story.
Start spending more time creating, and less time editing!
Wishing you love, light, and success in all that you do,